Soundiron releases CUBE, a "Glitchy Workplace Percussion" library for Native Instruments Kontakt.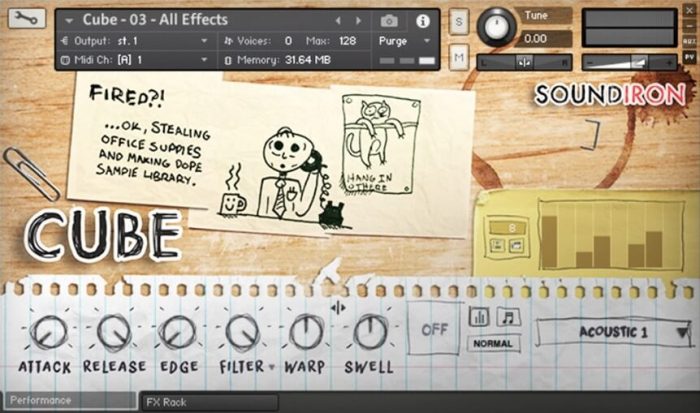 CUBE features a collection of 521 glitchy, crunchy, office-supplies-based percussive samples, along with FX, stingers, risers, and lush ambient pads.
About a year ago we thought "you know what would be great? A glitch percussion library that was super CRUNCHY!" and so, Cube was born. As development went on, the library took its own direction and became "office" related. Each sound has been designed using carefully selected sources like paper crunches, snapping pencils, fax machines, water coolers, paper cups, and all kinds of other office-related sounds. From the rattling of your last few anxiety pills, the evil clanging of your possessed time-clock, to luscious dreamy pads (imagining an escape from your personal cubicle hell), Cube has got you covered for your next game score, hot track, or quirky animation.

Our CUBE is neatly organized into 4 tidy sections: Designed Kits, where we scoured Cube for samples that roughly fit in a few traditional drum categories and assembled them into kits. The "Designed" category is filled with very heavily manipulated, modern sounds. Acoustic Kits, made up of less processed sounds procured during development. These are raw shuffles, crumples, and crunches that lay in beautifully with the designed category. Effects, (these are all the awesome sounds!) FILLED with character that didn't fit into the kits, in both Acoustic and Designed varieties. The Designed effects have been organized further into categories like anxiety pills, filing, insects, machines, robots, time warp, trash ball, and water cooler. Finally, Ambiences. As usual, we've included a heap of tonal and textural content to further flesh out your productions, maintaining the cohesive quality of this library.

CUBE comes equipped with flexible control features, like attack, release, transient offset, dynamic swelling, filter type selection, resonant filter sweep and a robust Arpeggiator system that provides a full range of custom dynamic arpeggiation modes and step sequencer pattern creation options. There's also a complete DSP effects rack, including convolution reverb with dozens of unique spaces, such as cathedrals, churches, halls, bunkers, garages, tunnels, chambers, rooms and plenty of otherworldly FX impulses to fully explore and endless variety of strange and unexpected sonic manipulations.
CUBE features
260 MB Installed.
521 Samples.
23 Kontakt 5.5.2 .nki preset banks.
24 bit / 48 kHz uncompressed PCM wav audio.
Custom Sound-Designed FX and Ambient presets.
Multi-FX Rack and reverb with 119 room, hall and FX impulses.
CUBE for Kontakt 5.5.2 or later (full version) is available for the intro price of $19 USD until October 20th, 2017 (regular $39 USD).