Soundiron has announced the release of the newest addition to the Hopkin Instrumentarium series of inspiring and distinctive bespoke, hand-made instruments for Kontakt 6 Player.
Hopkin Instrumentarium: Woodentines offers a nuanced and expressive selection of wooden lamellaphones by master instrument inventor Bart Hopkin.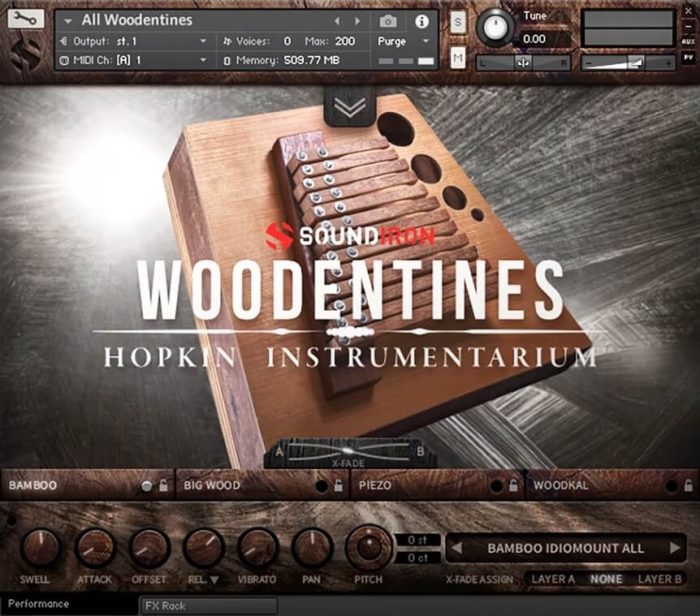 Featuring 3 unique instruments with wildly different shapes and mechanics, the same crisp and yet ponderously watery wooden essence shines warmly through each one. It includes the Bamboo Idiomount, Big Wooden Kalimba and Woodkal, plus a special bonus instrument called Piezo Tongues.

We've included a range of playable articulations and multiple microphone/channel options to give you complete freedom. And in classic Soundiron tradition, we've also included sound-designed textures, pads and tones that take the concept beyond its material source and into the realm of pure imagination. They can be played, layered, modulated and blended along with the natural acoustic articulations to achieve and endless array of new sonic combinations.

This collection offers you a broad, flexible palette of musical colors and comes equipped with easy-to-use layer mixing, performance tools and special effects to spark your creativity.
Woodentines features
6 Master presets and 20 Custom Sound-Designed FX and Ambient presets.
4 Unique Hand-crafted wooden lamellophones each with 2 mic positions.
Percussive knock effects, glisses and bonus ambient effects, pads and drones.
10,280 Stereo Samples.
1.50 GB Installed.
24-bit, 48 kHz Stereo Lossless NCW Format for Kontakt presets.
20 custom sound-designed FX and ambient presets.
Flexible and intuitive multi-layer user interface controls, with LFO, filter, glide, and arpeggiator.
Full FX rack with convolution reverb with custom rooms, halls, chambers & FX environments.
Woodentines for Kontakt 6 and the free Kontakt 6 Player is on sale for the intro price of $29 USD until November 18th, 2019 (regular $39 USD).
It is available from Soundiron and distributor Plugin Boutique.