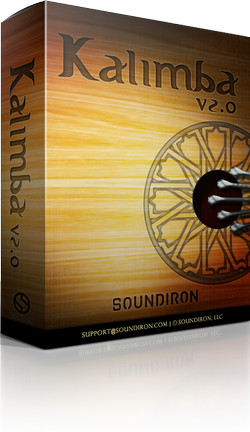 Soundiron has released version 2.0 of Kalimba, a virtual instrument library for Native Instruments Kontakt.
Our two kalimbas are made of wood and coconut, with hammered steel tines suspended over sound holes. The notes span about an octave and a half for the smaller kalimba and over two octaves for the larger one. We recorded in 3 different environments: Up close in a dry recording studio; at medium distance in a small bright chamber; and in a large, long linear hall, at close (1 meter) and far (15 meters) microphone distances.

This newly updated version of the classic Soundiron Kalimba now features 62 unique soundscapes, pads, atmospheres and drones to the library, each crafted by manipulating the source recordings. These organic ambiences make the ideal accompaniment to the acoustic portion of the Kalimba library, due to the natural sonic properties they share. All of it is wrapped up in a customizable performance control system, with lots of sound-shaping tools, arpeggiation sequencing and flexible DSP effects, such as convolution, EQ, resonant filter, chorus, flanger, phaser, delay, amp and speaker simulation, distortion and compression.

This new version 2.0 comes fully-loaded with a powerful user interface system that gives you total control over transient attack, sample start offset, dynamic swelling and dual-layer mixing, tuning and real timing. The master preset includes 7 different sound sets, including plucks and strums. Each sound selection layer is fully independent, but now their controls can be linked together or split with the push of a button. The new version 2.0 now also features our ever popular arpeggiation system, with total customizability, step sequencing, humanization and preset saving and loading. And every knob, slider, menu and button in the Kalimba GUI can be automated with a simple right click of your mouse.
Kalimba is available to purchase for $19 USD through January 19th, 2014 (regular $29 USD). Requires full version of Kontakt.