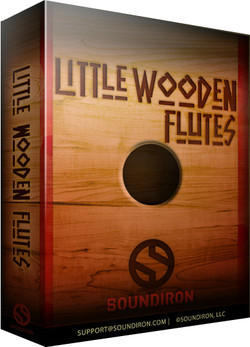 Soundiron has announced the release of Little Wooden Flutes, an ethnic flute library that combines playable multisamples with a deep collection of beautiful live performance phrases.
We captured the soul of 3 different traditional flutes from two continents in two different environments, including a unique 7-hole carved rosewood Indian Venu flute and larger 8-hole walnut and cedar Native American plains flutes. At only $50, it's an outstanding value.

The Venu was recorded in a close double-mic configuration in a dry studio environment to soak up every subtle nuance and full tonal clarity. This section features chromatic sustains and staccatos in three different types – standard, trilled and overtone. Sustains include 2X round robins per note and key release. Staccatos include 8X round robin per note.

The Venu phrases are divided into different keys. Each set can be transposed, tempo-synched, time-stretched, cropped, legato-blended and customized in real-time through our unique phrase sequencer and master control interface. You can custom mix and pan the two Neumann microphone choices (vintage omni and modern cardiod) to create your own robust tonal blend or stereo pair.
Little Wooden Flutes is available to purchase for the introductory price of $35 USD through December 25th, 2013 (30% off MSRP $50 USD).
More information: Soundiron / Little Wooden Flutes