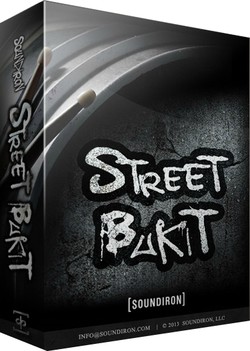 Soundiron has launched Street Bukit, a Kontakt sample library featuring collection of 5 different buckets and 5 different pots and pans recorded in three ubiquitous urban environments: city street corner, open garage and a small apartment bedroom.
The Street Bukit is a deep collection of classic DIY ("Do-It-Yourself") drumkit sounds that are found in improvised urban street performers' drum kits.

Common to cities around the world, you'll often find street drummers playing an ecclectic variety of large and small plastic buckets, pots, pans and other scrap and found objects arranged into a rough sort of drum kit. They play with marching or rock drum sticks, jazz brushes, mallets and hands, with specialized technique for producing kick drum sounds – they left the edge of a large bucket with the side of their feet and them stomp or drop it back down in different ways to produce unique lo-fi "bass drum" sounds. As raw a concept as this might seem, skilled street bucket drummers can be profoundly virtuosic, with complex, highly nuanced rhythms, grooves and cadences ranging from drum corps to break-beat to drum n' bass to industrial and tribal.
Street Bukit features
4,105 samples.
2.40 GB Installed.
22 nki Kontakt instrument presets (11 K4 / 11 K5).
24 bit / 48kHz stereo PCM wav format.
Open format to allow user customization.
The Street Bukit library is available to purchase for the introductory price of $47 USD until July 12th, 2013 (regular $59 USD).
Soundiron has also announced its 4th of July Sale, offering a 20%–40% storewide discount until July 12th, 2013.
More information: Soundiron / Street Bukit