Soundiron has launched Theremin+, a Kontakt instrument library based on the classic sound and feel of the legendary Theremin, but with a huge twist and a wealth of additional sound-designed pads, leads, ambiences and atmospheres.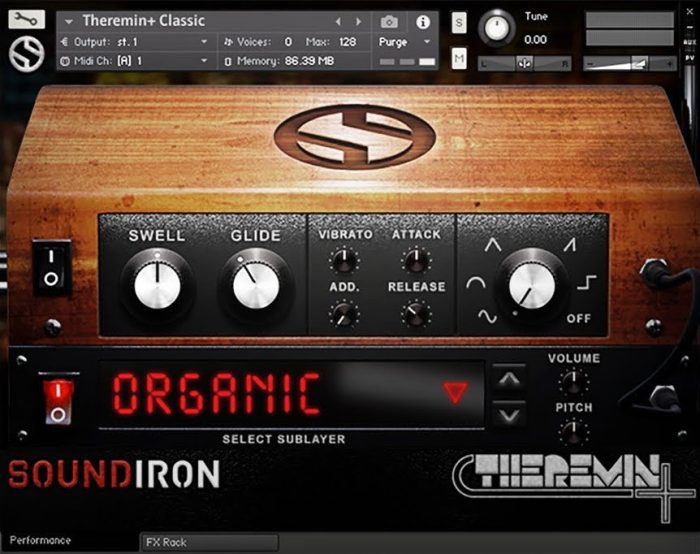 Our Theremin+ behaves as close to a Theremin as you can get on a keyboard, smoothly gliding between monophonic notes with variable speed. The Glide knob allows you to adjust the speed of the glide between notes and when set to 0, turns this otherwise monophonic instrument into a full polyphonic sound creator! The Theremin+ includes a number of real Theremin samples, generated tones, and a plethora of carefully crafted sounds, designed from a wide array of sources

The Theremin+ is packed with features not typically found on a Theremin. The waveform selector lets you choose from Sine, Absolute Sine, Triangle, Saw-tooth, or Square. The Add. knob sets the number of simultaneous micro-tuned voices from 1-4. The Sub-layer adds a whole new dimension, giving you the power to mix in any one of the dozens of included pads, leads, drones, and ambiences complete with separate volume and pitch controls.

Our custom scripted Kontakt user interface comes equipped with flexible control features, like volume swell, glide, pitch, vibrato, attack, release, and an additional Sub-layer selection menu with separate volume and pitch controls, giving you tons of sonic possibilities. There's also a complete DSP effects rack, including reverb with over a hundred life-like spaces, such as cathedrals, churches, halls, bunkers, garages, tunnels, chambers, rooms and creative FX convolution impulse responses.

This 975 MB library includes 106 samples and 5 nki presets with a custom user interface for the full version of Kontakt 5.5.2 and later (OSX 10.8 or later / Windows 7 or later required). All of the samples are unlocked 24bit/48kHz wavs that you can use in any standard wav-compatible program or plugin you like.
Theremin+ for Kontakt 5.5.2 or later (full version) is available for $19 USD.