Soundiron has announced the release of its new Kontakt instrument library UFO 61, a vintage five-octave electronic organ from Italian instrument maker Viscount.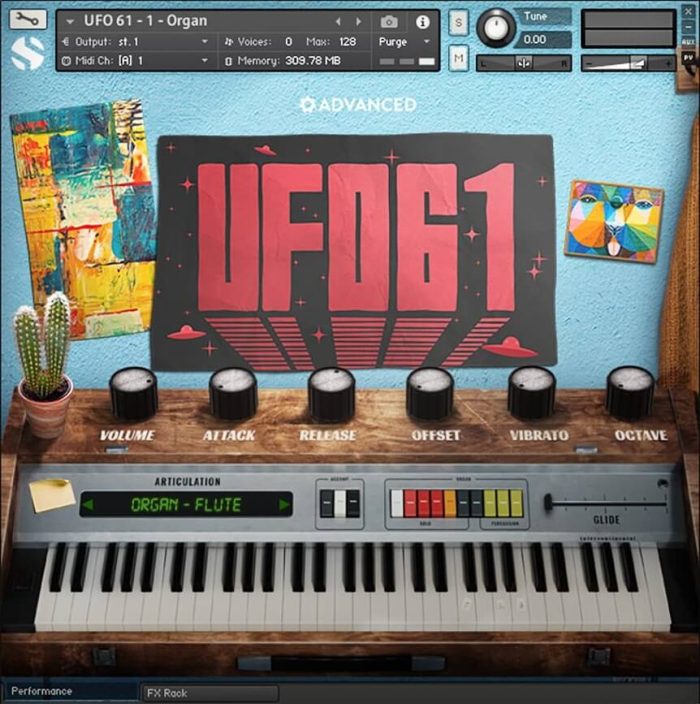 Built in the 1970s, this simple synthesizer has a smooth, quaint tone with a warm, pleasantly fuzzy texture. Like many early suitcase organs and portable synths that proliferated during the era, it has just a few core instrument voices, a single speaker, simple rhythm box and a basic selection of classic organ controls.

We've captured 12 different articulation types containing infinite sustains and tight staccatos. We've also created 20 custom factory FX presets and 30 unique sound-designed synth patches, pads, drones and atmospheres from the raw source to give you a full range of creative options while capturing the aesthetics and cultural moment of the 1970s. UFO 61 just the ticket for classic sci-fi soundtracks, electronic music and anything that needs a hint of mellow retro flavor.

UFO 61 was recorded in a dry studio using a pair of Neumann TLM 103 large diaphragm microphones. We recorded its stock presets with sustains and staccato samples for each key. The included octave, vibrato and FX rack give you an easy-to-use interface to completely customize and shape its fat analog sound to fit a variety of creative styles.
UFO 61 features
2 Main Instrument Presets with advanced performance controls, vibrato, glide speed, LFO, Filter, Arp and full FX rack.
20 Custom Sound-Designed FX and Ambient presets.
Sustains, staccatos and sound-designed samples.
Turn the Glide slider up for monophonic legato functionality, or turn it down to 0 for standard polyphonic mode.
The Octave knob gradually adds a lower and higher octave doubling effect for more body and power.
Convolution Reverb with 119 different cathedrals, churches, chambers, rooms, halls and special effect impulses.
A full multi-effects rack, with EQ, filter, phaser, flanger, delay, distortion, amp & speaker simulation and more.
UFO 61 for Kontakt 5.5.2 or higher (full version) is on sale for the intro price of $19 USD until May 28th, 2019 (regular $29 USD).
More information: Soundiron