Soundiron has launched Voice Of Gaia: Bryn, an eclectic male tenor solo vocal library featuring the talents of Bryan Lane (aka "Bryn").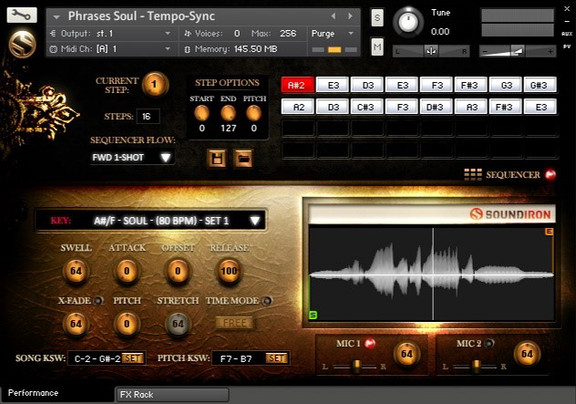 While trained in operatic vocal techniques, his own personal style draws from a much broader and older range of vocal styles, inspired in equal parts by Middle-Eastern and American Spiritual and Gospel music. He delivers a dark, passionate intensity to his performances that will pull you in. We recorded Bryn in a close studio environment, using Neumann microphones and pristine Sound Devices preamps for outstanding detail, clarity and fidelity.

Voice Of Gaia – BrynWe captured true legato sustains for Ah, Oo, Humming ("mmm") and Whistling. We also recorded sustains and staccatos for Ah, Oh, Oo, Uh, Humming and Whistling. Most of this chromatic content spans a natural key range from D2-D4 (extended from C2-G4). You'll also find a wide collection of melodic phrases in classic Vowel, Hummed, Arabian, Southern Gospel styles. Each of the main categories includes content for each key. In addition, there's a general selection of whistling phrases and Arabian-styled chants. Each phrase preset offers pitch transposition, tempo-synching, step-sequencing, song switching and more.

We've also included our comprehensive FX Rack panel, with multi-effects, compression, EQ, amp/speaker simulation and convolution reverb, featuring dozens of our most popular custom recorded rooms, halls, cathedrals and otherworldly fx impulses, all easily available through the control interface.
Voice Of Gaia – Bryn is available for purchase for $139 USD. Requires the full version of Kontakt 5.1 or later.
More information: Soundiron / Voice Of Gaia: Bryn