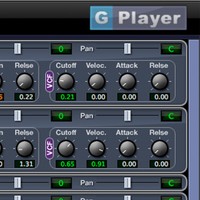 Soundlib has released version 2.0 its G-Player native Giga file player for Mac OS X and Windows.
No conversion required. G-Player is a native Gigastudio file player designed to play the large banks that require disk streaming. G-Player allows you to quickly modify some program parameters (ADSR, VCA, VCF…) without having to edit and save the giga file.
Changes in G-Player v2.0
The standalone version has 8 MIDI ports and is therefore able to support up to 96 MIDI channels.
A 16 track audio mixer with built-in Compressor, EQ and support for 2 external effect plug-ins. All parts are now routed to the audio mixer.
A new G-Sound utility that scan your hard drives and build a database of all your Giga files.
The stack icon in the toolbar has been replaced by individual stack buttons for each part.
The VCA and VCF can be adjusted for each part in a stack.
The part order in a stack can be modified by simply dragging one part up or down.
The built-in keyboard displays the notes played on an external keyboard or MIDI track.
Each part has a new pitch transpose control.
G-Player for Windows and Mac (VST/AU/RTAS) costs $149 USD.