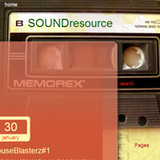 SOUNDresource is a blog offering some quality sample packs for download.
I started an audio blog on which I will post my homegrown sample packs etc. There are already 3 packs online (gratis, free, umsonnst! ) When ever I will find time I will put up some new packs, write some reviews when I buy new gear or software and I will start to bundle some of sound patches I made (NI/.ksd files)
That was a few days ago and guess what, 4 more packs have already been posted since.
Currently available from SOUNDresource
Glitch.this! – an extremely harsh pack and is suitable for a lot of different styles. Minimal, Electro, House, Industrial, IDM; whatever your flavor is.
ELEKTRO.KRIMINALZ.#1 – 400+ samples suitable for dance music such as House, Minimal and Techno.
Fre4k-A-ZoiD – 120+ 24bit samples of weird and odd percussion are the results of a Reaktor meltdown which assimilated right to the Kore.
Philterluscious – 170+ 24 bit one shots made by fondling around in NI's Spark and Combover, the new twisted freebie from Evil Alliance (De la Mancha and Runagate).
Cratediggerz1 – a compilation from vinyl scavenging, all the one shots are in 24 bit mono and processed by numerous hard and software (i.e. dbx166XL, SE-70, and various emulations of the well known English Classic Consoles).
KrunkyOne – 140 24bit Phat samples suitable for any kind of music that needs deep 808 like basses en percussion and more.
HouseBlasterz#1 – 24bit mono one shot samples, suitable for any kind of electronic dance music.
Head on over to SOUNDresource for more information and links to download all these lovely sample packs.