Sounds Famous has launched the new Vintage Organ Pack, a premium set of Hammond organ presets based off a 1963 Hammond A100 and Leslie 122 organ.
The collection features 20 authentic and record-ready Hammond B3 presets for Apple MainStage 3 and Logic X, utilizing the built in "Vintage B3" plugin.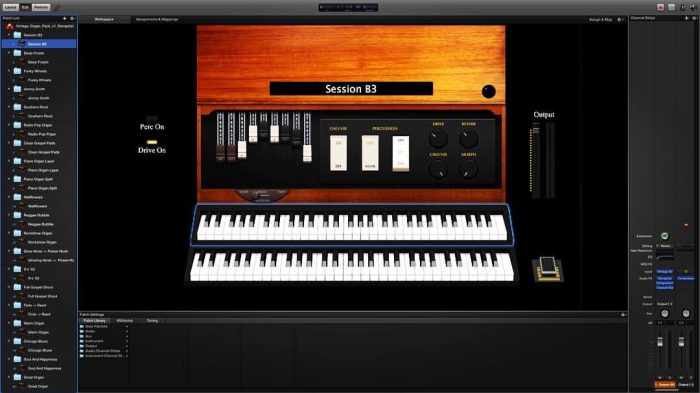 Sounds Famous A/B'ed the vintage rig with the plugin and tweaked it mercilessly until it was as close as possible in nuance, tone and playability.
The pack was created by Christian Matthew Cullen, who has over 15 years of experience touring and recording with some of the biggest names in rock.
"Once I started digging around the Vintage B3 plugin, I started to realize that it was extremely capable of re-creating the sounds and nuances from my vintage '63 Hammond organ and Leslie 122 speaker cabinet. It gives you control over Key Click, Chorus Vibrato, Tonewheel Crosstalk, Percussion, and Drawbars that all add up to the massive B3 sound. My intent with this pack was to make record ready organ sounds for both stage and studio, but simplified for ease of use.

I figured out a way to map the mod wheel to morph between two different drawbar settings to give you a variety of tones in the same patch. By default, the sustain pedal is mapped to temporary Leslie Speed. Feel free to map the mod wheel to Leslie speed as an alternate. If you have an expression pedal, use it! You can really start to tap into the dynamics of the plugin just like a real B3. I encourage you to map the rest of the buttons and switches to your specific MIDI controller for more realtime control. I hope you enjoy these sounds as much as I do."
The soundset includes template files for Apple Mainstage 3 and Logix X and a collection of 20 MainStage patches and Logic .CST Channel Strip Settings.
The MainStage pack includes a bonus concert with patches utilizing Sound Toys Decapitator plugin for additional pentode tube warmth. Decapitator plug-in sold separately.
The soundset is available for $14.99 USD ex. VAT where applicable.
More information: Sounds Famous