Splice has launched released a batch of new sample packs with sounds from Tom Hades, A-Trak, Anamanaguchi, Streetrunner, KMB, and more.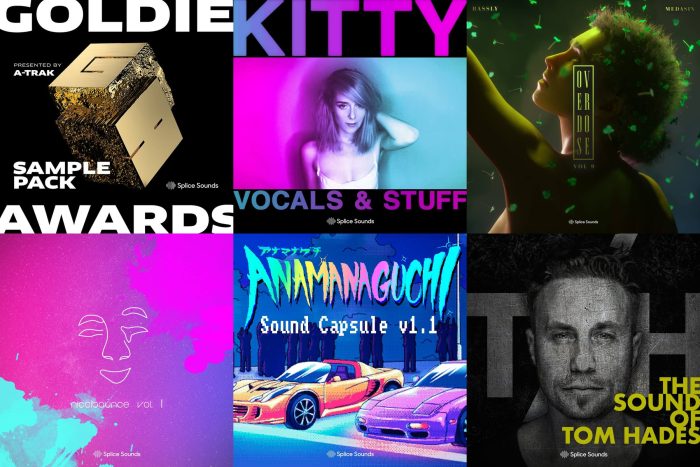 Tom Hades is a Belgium-based producer who is a tastemaker in today's techno scene, known for his pumping basslines and captivating melodies. His sample pack brings a taste of his distinctive sound, offering a cohesive collection of cutting-edge drums, mesmerizing tonal loops, and more.
Medasin returns for another installment in the Overdose series, where he collaborates with like-minded, forward thinking producers. For this pack in the series, Medasin invites Bassly.
J. Albert has produced techno, acid, house under a number of different monikers but all cut from the same forward-thinking, dancefloor ready sounds. Dive into his sample pack.
Chromonicci's music bounces and head-bops, much like his sample pack. Dive into bass, leads, drums and more from the one of a kind electronic producer.
KMB is a producer who blends trap, R&B, and future bass. His sounds are graceful, energetic and peaceful. Download the KMB Sounds Kit now.
Kitty is a Florida-based songwriter whose collaborated with the likes of Ricky Eat Acid and Riff Raff and has streamed millions of plays across platforms. Now, her vocal stylings arrive in pack form and they're purrrr-fect. Get your paws on them now.
Oliver are a duo touching on funk, new wave, synth-tastic vibes. Throw it way back with the signature sounds of the duo, who've collaborated with the likes of Beck, Chromeo and more.
This year, Splice teamed up with the Goldie Awards, providing a sample for their Beat Battle challenge in this year's competition. Now, fresh off hosting the event which put DJ against DJ, producer against producer, A-Trak has compiled a new sample pack. Mine through this 14-karat collection of sounds, courtesy of the legend himself.
Nicholas Warwar, better known as STREETRUNNER, is a Grammy-winning producer from Miami, Florida. Having worked with the likes of Lil Wayne, Nicki Minaj, Eminem, and more, STREETRUNNER is without a doubt a force to be reckoned with. His sample pack brings an invaluable collection of sounds that blend hard-hitting energy with a dose of timelessness.
Anamanaguchi are a four-piece from New York who bring a fun, glitchy, and emotive vibes to their dance-y, electronic sound. Taking cues from J-pop, bass music, and dance music, dive into their effervescent vibes in their new sample pack.
Luca Lush is a producer blending house, EDM, and electronic music without losing an emotive, human touch. He brings all of those sounds into this newest volume of his sample pack. Feel a little blue with his indelible sounds.
The sample packs are now available to Splice subscribers (subscriptions starting at $7.99 USD/month).
New users can get 1 month free access to Splice by using promo code YT2021 when signing up for a plan.
More information: Splice Sounds