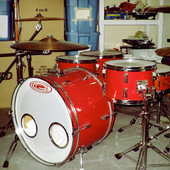 Sounds Outside the Lines has released Basement Drums, a free sample pack featuring a drum kit for EXS.
Captured at 44.1kHz/24bit using only a pair of Shure SM57s and an Apogee Duet, Basement Drums captures the authentic sound of an average drum kit with round robin layering and multiple velocities. For times when other drum sounds are too "clean", "produced" or "even" Basement Drums could be your secret weapon.
Basement Drums features
9 EXS instruments compatible with Logic Pro/Express and most common samplers for PC/Mac: Full, Kick, Snare, Low Tom, Mid Tom, High Tom, Hats, Ride, Crash.
The programs include over 229 unique samples which were very authentically captured with the following variations: Kick In, Kick Out, Snare Top, Snare Bottom, Low Tom Top, Low Tom Bottom, Mid Tom Top, Mid Tom Bottom, High Tom Top, High Tom Bottom, Closed Hi-Hats, Open Hi-Hats, Ride Cymbal, Crash Cymbal.
Basement Drums is available as a free download.
More information: Sounds Outside the Lines