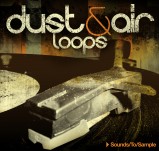 Sounds To Sample has released Dust & Air Loops, a sample pack featuring loops by Dual Shaman.
One of the classic tricks for injecting life into programmed beats or breakdowns is to layer drums with vinyl, dust, crowd and found-sound samples. Or you can fire up one of these 225 precision programmed warm, organic loops from Sounds To Sample and the Dual Shaman team.

Laden with bpm-linked loops (at 125bpm with bonus loops at 90bpm), this pack features noise, ambience, crowd and dust loops created from original field recordings of Berlin nightlife, New York traffic and Tokyo sunrise.

These raw sounds are layered with vinyl crackles, found-sound percussion, light industrial whirrs and clicks, ambivox loops and loose shakers, which are further processed in the analogue domain.

Just lay one (or more) of these loops behind a kick and snare for a warm, airy rhythmic fullness that breathes detail at all the right frequencies for house, deep house, tech, urban and chillout productions.
Dust & Air Loops features
225 24-bit Wav loops (including 90 bonus 90bpm Dust and Air loops).
Categories: Air (subtle top-end loops), Ambience (found-sound and light crowd loops with elements of rhythm), Household Shakers (warm, lazy shakers to add naturalism and humanity to any groove) and Full Loops (more obviously rhythmic – just fire up a kick and roll).
Download size: 228.1Mb (unzipped), 200.8MB (zipped).
Dust & Air Loops is available to purchase for 15.75 EUR.
More information: Sounds To Sample