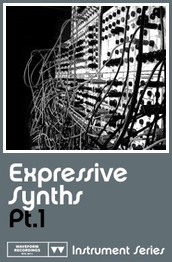 Sounds To Sample has released Expressive Synths Pt 1, a sample library by Waveform Recordings.
Waveform continue their instrument-only series with 150 prime synth cuts, featuring basslines, lead line riffs, percussive synth workouts and sustained melodics.

Waveform understands that no-one wants over-cooked sounds, that's why all of these loops are served dry, giving you maximum headroom for all of your audio manipulation and creative ideas.

The collection is intuitively divided into four folders of bass, percussive, riffs and sustained. The bass folder delivers rich, deep and warm tones perfect for throbbing tech-house stompers. The percussive is loaded with rhythmic synth percussion and stabs workouts, perfect beat backers or lead supporters. Grab some instant melodic foley from the riffs folder, stacked with melodic riff rampages. Finally there's the sustained folder containing drawn-out chord progressions and pad-like synth atmospherics to enrich the mix with lush harmonic content.

All loops are presented as pristine 24-bit Wav files and are key- and tempo-labeled (125 & 126bpm) for added ease.
Expressive Synths Pt 1 is available to purchase for 16.90 EUR.
More information: Sounds To Sample