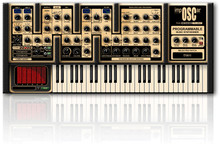 Soundsdivine has released Chakra, a collection of patches for ImpOSCar.
The Chakra sound bank is based on the Chakra (a Sanskrit term meaning wheel or disc).
Chakra features
72 presets split into 2 separate banks: Base – Heart & Heart – Crown.
10 presets for each of the chakras, i.e. Base/Sacral/Solar/Heart/Throat/3rd eye & Crown.
Each preset has been specifically tuned to a corresponding chakra.
Chakra for ImpOSCar is available for the introductory price of $7.77 USD until 7 June, 2009 (regular price $15 USD).
Visit Soundsdivine for more information and sound clips.