SoundSpot has launched the new Ravage multi-mode distortion effect plugin for Windows and Mac.
Following the release of Ravage Lite, its big brother features six types of distortion, filtering and gain, and plenty of modulation option with custom-drawn LFO shapes.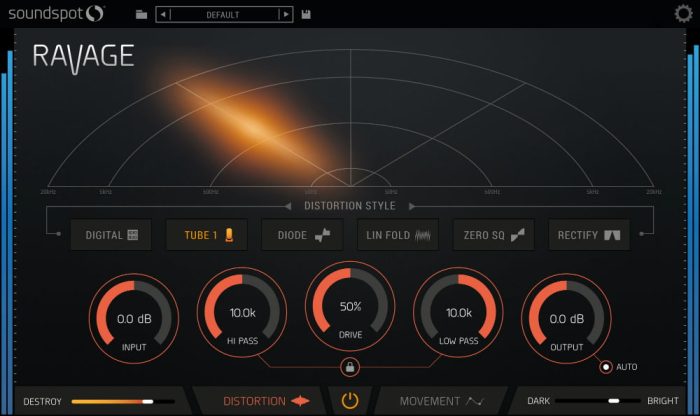 Select from six modelled distortion algorithms: Tube, Digital, Diode, Linear Fold, Zero Sq and Rectify, each with a different personality for adding grit and dirt to audio. Use the Drive control to push the signal harder, and use the Destroy parameter to fully smash up any audio. There are high- and low-pass filters onboard, as well as a Dark/Bright slider to weight the distortion's energy.

Animate your distortion in Ravage's Movement panel, which lets you assign modulators to one of eight destinations including Drive and Pan. With draw-your-own modulator shapes, you can customize an LFO's movement using nodes and curves to whip up customised patterns. To take your modulation further, Ravage offers playhead reversal, waveform smoothing and pulse width manipulation.
Ravage features
Heat things up with 6 distortion types: Digital, Tube, Diode, Lin Fold, Zero Sq and Rectify.
Add movement to parameters using custom-drawn modulation shapes.
Destroy parameter pushes the signal even harder through the distortion processor.
Pan the distortion across the stereo field .
Tailor the distortion response with filtering, input/output gain, and dark/bright weighting.
Reverse, Smooth and adjust Pulse Width for modulator signals.
Auto output control compensates level when Drive is increased.
Oversampling is set intelligently behind the scenes to ensure the best sound quality.
Ravage is on sale at an introductory price of $45 USD until February 4th, 2019 at Plugin Boutique (regular $199 USD). It is available in VST/VST3, AU and AAX plugin formats.
Users of one or more SoundSpot plugins can crossgrade to Ravage for only $33 USD during the sale.
More information: SoundSpot