SoundSpot has released version 1.02 of KickBox, an equalizer effect plugin that simplifies the mixing process for modern kick drums.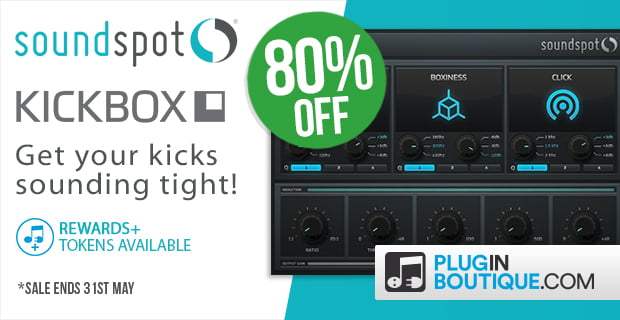 The update includes a compressor with a brand new compression algorithm designed so you can slam your kick drums without distortion. The signal then goes into a new limiter, that adaptively gives you the best settings for the source material.
The kick drum is the backbone of many modern music genres, both electronic and acoustic. It's Often times the thing you start with in a new mix, but to get it sounding just right can be a complex task.

A well mixed kick drum has a warm sounding low end, doesn't sound too boxy and pierces through the mix in a very natural way. When designing KickBox, these are the qualities we've focused on, simplifying the mixing process for any modern kick drum.

The KickBox is modelled after analogue filters and separates the relevant frequency ranges in a very transparent way. KickBox can help you get your kicks sounding extremely tight in a matter of just a few clicks.
KickBox for Windows and Mac (VST/AU/AAX) is available exclusively from Plugin Boutique, at 80% off until June 1st, 2017 (regular £50 GBP). The update is free for KickBox users.