Plugin Boutique has announced a sale on the Paradox multi-fx plugin by SoundSpot, offering a 75% discount for a limited time.
Paradox is a multi-fx plug-in that features an advanced push-pull equalizer and a variable RMS-time parallel compressor, both offering stereo, mid and side options. Its clever signal path has an extremely pronounced character and lets you bring out certain elements in your mixes with incredible ease.
Paradox features
Intuitive, easy-to-navigate user interface.
Designed to work flawlessly with touch controllers such as the Raven by Slate Media.
Four powerful push-pull filters with intuitive and simplified controls, with stereo, mid and side mode.
Variable slope high pass and low pass filter with stereo, mid and side mode.
Variable RMS-time compressor for analog emulation.
High pass sidechain-filter for compressing tracks with loud kick and bass parts.
Mix control for creating parallel compression.
Preset manager to save & share your own effects.
The plugin is on sale for £14.75 GBP / $19 USD until June 3rd, 2019.
During the sale you can also grab the VoxBox vocal processor at an 85% discount.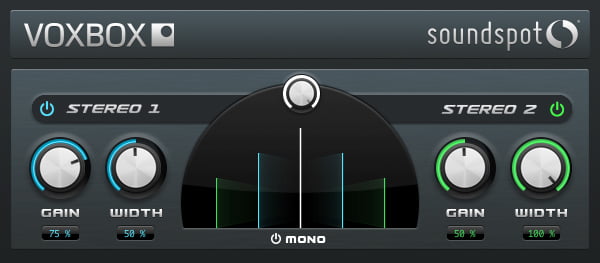 Lead vocals are often the most important element in a mix. To get lead vocals to jump out of a mix and not get buried in the music, a technique called 'vocal thickening' is used widely throughout the industry. Usually this technique requires multiple channels and plug-ins to achieve the desired results.

When designing VoxBox however, our aim was to create a plug-in that simplifies the vocal thickening process, without compromising on quality. VoxBox helps you widen and thicken your lead vocals in a simple and intuitive way, while being light on your CPU and keeping your mixing chain simple.
VoxBox is now available for just £4.95 GBP / $7 USD. It comes in VST/VST3, AU and AAX plugin formats.
More information: SoundSpot