SoundSwitch has announced the introduction of its new SoundSwitch 2.0 software.
This release includes support for the new SoundSwitch Micro DMX Interface, Enttec hardware, plus a new subscription service and additional software feature upgrades. These new additions make SoundSwitch truly accessible to all DJs while further expanding the creative possibilities.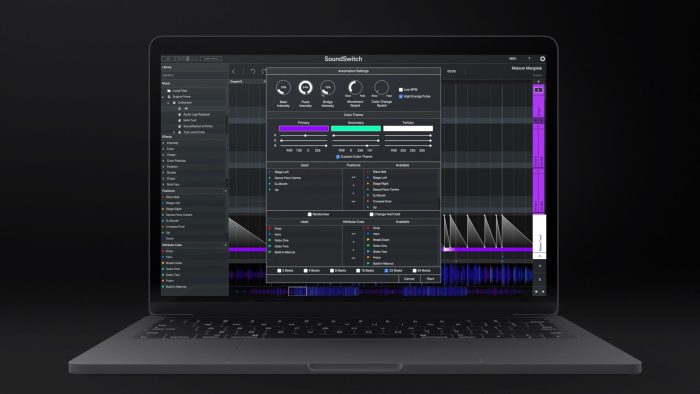 DMX Hardware Support
The SoundSwitch software now supports the new SoundSwitch Micro DMX Interface in addition to support for third party USB to DMX hardware.
The first third party hardware to be supported is the Enttec DMX Pro 2 interface. This means owners of existing Enttec units can now access the software via the subscription service while those who want to try SoundSwitch can easily test it out with the very affordable Micro DMX Interface.
"The SoundSwitch 2.0 release and related hardware support means DJs can easily add impressive lighting to their DJ performance" said SoundSwitch's CEO, Zak Meyers.

"SoundSwitch now provides more functionality, easy accessibility and new pricing, which allows any DJ to elevate their live performance through the use of the software and their choice of hardware"
SoundSwitch 2.0 features
Subscription payment options.
Support for the new SoundSwitch Micro DMX Interface.
Support for third party Enttec DMX hardware.
DMX fixture map.
Attribute cue upgrade.
Engine Prime music library and meta data displayed in Edit Mode.
Advanced automated light show creation.
The new subscription model provides more affordable access to the SoundSwitch software without limiting the feature set. DJs can choose how they want to access the software by selecting the supported hardware and subscription option that suits their DJ needs.
Software Subscription Pricing:
One month – $7.99 USD.
One year – $79.99 USD.
Extended license – $199.99 USD (free continuous upgrades. Discounted license fees may be applied for major software upgrades).
More information: SoundSwitch