For a limited time you can save 87% off on the Devil-Loc audio level destroyer with vintage vibe by Soundtoys.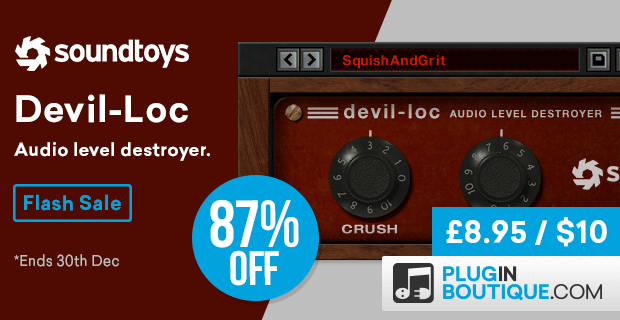 Simple, devious and often unpredictable, Devil-Loc is a little plug-in that makes drums sound big. Drop it on a drum kit or loop and listen to Devil-Loc inflate the room ambience, pumping excitement into an otherwise drab rhythm track. Push it to its limits to create extreme gating effects where loud hits crush the signal to silence and the output blooms into a fuzzy mess.

Now back off the controls. You'll find some amazing sweet spots where Devil-Loc shows its angelic side, adding a vintage halo to loops and drums. You can even try it on your mix bus—if you dare!
Regularly $79 USD, Devil-Loc is on sale at Plugin Boutique for only $10 USD until December 30th, 2018.
More information: Soundtoys