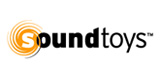 SoundToys has introduced Decapitator, an analog saturation modeling plug-in for PC and Mac.
Sometimes little ideas take on a life of their own, especially at SoundToys. SoundToys users had been loving the "analog" sound of plug-ins like EchoBoy and FilterFreak so much that they asked SoundToys to create a dedicated saturation plug-in. The designers at SoundToys weren't content to just copy a few bits of code from those popular plug-ins. Instead, they started on a multi-year search for the analog "mojo", collecting all sorts of classic and obscure mic preamps and console channels, and developing new techniques for simulating the organic character that only comes from a properly aged (and abused) piece of gear.
Now, SoundToys is finally ready to demonstrate the first product of that tone quest — Decapitator. Decapitator models the saturation or distortion created when driving professional analog studio equipment. SoundToys analyzed vintage and modern classics from Neve, API, Ampex, EMI and Thermionic Culture, and more to create accurate models of high-end studio gear. Decapitator creates that highly sought after analog sound from subtle harmonic changes to extreme driven distortion.
Decapitator will be available in the 4th quarter of 2009 for TDM/RTAS/AudioSuite, AudioUnits, and VST. More details and demo versions will be posted at http://www.soundtoys.com/ as they become available.
More information: SoundToys