Plugin Boutique has announced a sale on the Little PrimalTap vintage delay effect plugin by Soundtoys, offering 90% off for a few days only.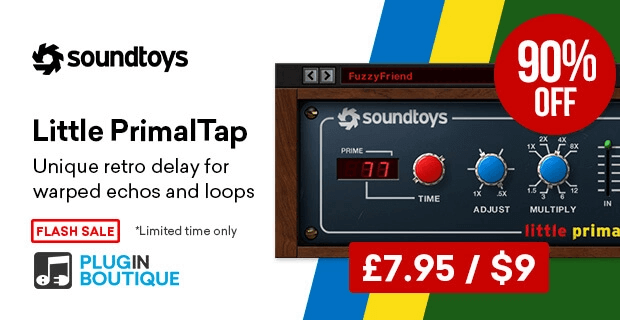 Inspired by the classic Prime Time* from 1978, Little PrimalTap captures the highly distinctive sonic imprint of this quirky, and well-loved (by those in the know) vintage digital delay.

Don't be fooled by its simple interface, Little PrimalTap lets you unleash your creative urges to echo, loop, warp, distort, mangle, or create cacophonous cascades of otherworldly sounds.
Little PrimalTap features
Get vintage digital delay sounds inspired by the quirky Prime Time echo.
Create grimy, lo-fi echos and wild pitch jumps with the Multiply knob.
Warp and bend the echos by tweaking the Adjust control.
Use automation to bring your tracks to life.
Little PrimalTap is on sale for $9 USD until January 3rd, 2020.
More information: Soundtoys