Soundtoys has announced the launch of its Summer Sale, offering discounts of up to 80% off on the limited edition Soundtoys Echo Pack and other plugins and bundles.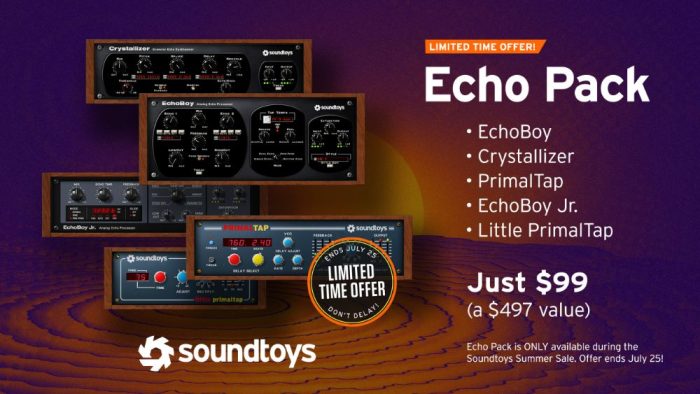 We're obsessed with echo. From the most subtle uses to forming the foundation of the whole sound of a track, delay and echo are an essential part of mixing – and your mix deserves the best effects.

That's why we created the new Echo Pack, a special collection of professional echo and delay plug-ins for our Summer Sale. But it's only available for a limited time! Shop now before this offer fades away on July 25.

Get five powerful plug-ins in the new Soundtoys Echo Pack for (a $497 value) only $99!
The bundle includes EchoBoy, Crystallizer, PrimalTap, EchoBoy Jr. and Little PrimalTap.
The Soundtoys 5 bundle and other effects plugins are up to 70% off at Soundtoys and distributor Plugin Boutique through July 25th, 2019.