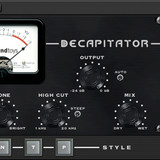 SoundToys has announced the release of SoundToys version 4, an update to the bundle of effect plug-ins for Windows and Mac.
Here's what you get: SoundToys TDM Effects, and SoundToys Native Effects owners get TWO amazing new plug-ins, our new built-in preset management system, and an exclusive V4 set of presets. That's the much anticipated Decapitator, analog saturation modeler, and the astounding PanMan rhythmic auto-panner, all for the low upgrade prices of $199.00 for SoundToys TDM Effects, and $99.00 for SoundToys Native Effects. V4 upgrades for single plug-ins also available.
New in SoundToys V4
Decapitator

Analog Saturation Modeler — Analog saturation has long been the magic mojo that engineers have used as their swiss army knife of mixing. It's used on drums, bass, vocals guitars, everything. It can be used to beef things up, thin things out, give them some edge, fry them up nice, add a bit of warmth, pull things out of the mix, or even create a signature sound. Subtle to extreme, analog saturation is the golden child of great mixes. That's why we took our time, bought and listened to all the great analog classics, and painstakingly created that magic for you in Decapitator.

PanMan

Rhythmic Auto-Panner — PanMan takes the supposedly simple process of moving audio back and forth in the stereo field and gives it that special touch that you've come to expect from our twisted minds. It features an over the top range of panning modes to recreate classic analog auto-panners plus some of the cool modes from our other plugs to push it a bit further into the future. With MIDI sync to tempo, preset storage, dynamic control, and automation you get modern innovation alongside the classic features from hard to find vintage analog hardware. Control width, speed, direction and more with the most full featured panner you've ever seen.
More information: SoundToys / Decapitator / PanMan