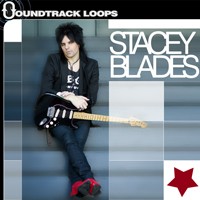 Soundtrack Loops has announced the release of Stacey Blades Pro Sessions Guitar Stems, a collection of royalty free audio stems.
Stacey Blades Pro Rock Guitar Sessions is a well-rounded royalty free set of multi-purpose Rock guitar
performances for your studio. It places the sounds of the pros right at your finger tips. Perfect – whether you're looking for inspiration or want to drop a wicked solo into the mix. Stacked with mostly electric guitars, this library rips, but it also includes a few acoustic guitar sets for your more vulnerable productions. Drop any stem into your mix as a whole or slice it into bits and create something new.

There are 22 different sessions in 12 different styles/genres including '70s Rock, Hard Rock, Blues, and Acoustic.

Inspired by the bands Van Halen, Mötley Crüe, Ozzy Osbourne, Led Zeppelin, Stray Cats, Eric Johnson, George Lynch, and Stevie Ray Vaughan. Tempos and keys are provided in the file names as well as in the folder structure. Use programs like Sony Acid Pro, Ableton Live, and Logic Pro to slow the guitar down or speed it right up. This extremely versatile library is a must-have for all professional music producers but could also double as a practice tool. 24 bit 44.1kHz Stereo. Performed by Stacey Blades in Hollywood California.
The sample pack costs $42.95 USD.
More information: Soundtrack Loops / Stacey Blades