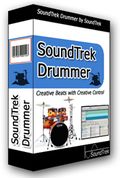 SoundTrek has released SoundTrek Drummer, an easy to use yet powerful and flexible MFX MIDI plugin that allows you to quickly create new and original drum beats in many different styles of music.
Whether you want to create drum parts for a complete song, work out some quick drum beats or create an extended dynamic jam, SoundTrek Drummer gives you the tools to be creative without the hassles of programming or the repetition of loops.
Features
Create realistic sounding drum beats in a variety of musical styles.
Quickly and easily create anything from a single drum instrument to a complete arrangement including drum fills.
Never ending supply of beats and ideas. If you don't like a take, compose again and get a new variation.
Musician clips are arranged on the timeline then composed. The amount of variation in the composed takes is completely up to you.
Style library contains over 2500 musicians and musician grooves to use as building blocks.
Multi-level undo / redo lets you experiment without worry.
Load and save your arrangements/presets to your hard drive. No matter which hosts you use you will always have access to your preset files.
Video tutorials get you started quickly and easily.
Note: SoundTrek Drummer is a native MFX MIDI Plugin for Cakewalk products such as SONAR and Home Studio, it has also been tested successfully with VST host applications such as Cubase SX 3, Cubase 4, Nuendo and VSTHost using free 3rd party wrapper software.
SoundTrek Drummer is available for Windows PC and costs $99 USD.
Visit the SoundTrek Drummer website for more information and video tutorials (trial version coming soon).