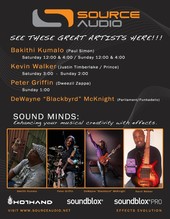 Source Audio has announced Sound Minds: Enhancing your musical creativity with effects, its special artist appearance program for the 2011 Winter NAMM show.
Through the years we've spent introducing music effects both classic and new, we've found that perhaps the biggest road block musicians face in expanding their sound is that no one talks about how to use effects pedals to expand your sound. The magazines teach us theory and transcriptions and delve into what the greats are using, but rarely do we see answers to the essential questions of how and why.

So for this 2011 Winter NAMM we are tackling those questions head on with some help from our friends, Bakithi Kumalo, the bassist renowned for his work on Paul Simon's Graceland; Kevin Walker, funk aficionado and touring bassist for Justin Timberlake and Prince; Pete Griffin, the backbone bass player for Dweezil Zappa; Blackbyrd McKnight, musical director and lead guitarist of Parliament Funkadelic; and a few more surprise guests.

Bring your ears and mind to booth 5599 in Hall B at any time throughout NAMM. We, with our presenters, will be there to answer all of your questions and to give you hands-on demos of our full line of effects pedals.
More information: Source Audio