Source Audio continues the company's tradition of innovation and bold development of new audio effect technology with the release of the Ultrawave Multiband Processor and Ultrawave Multiband Bass Processor.
"A lot of musicians have told me they are bored with the same traditional collection of guitar effects and overdrive pedals," said Source Audio President Roger Smith. "In response, I challenged our Chief Scientist, Bob Chidlaw, to create a vast playground of new sounds. The Ultrawave Multiband Processor is his latest creation and it is a beauty. Bob's brilliance and contribution to guitar effects history continues in full-force."
The Ultrawave is the first of its kind: a flexible multiband processing toolbox. Through the combination of band-splitting, exotic distortion curves, multi-band tremolo, compression, morphing, and flexible stereo processing, the Ultrawave opens doors to a wide range of new sounds for guitar, bass, and synthesizer.
The Neuro Desktop and Mobile editors provide an intuitive graphical environment to unlock the power of the Ultrawave, allowing users to create and share a growing library of sounds.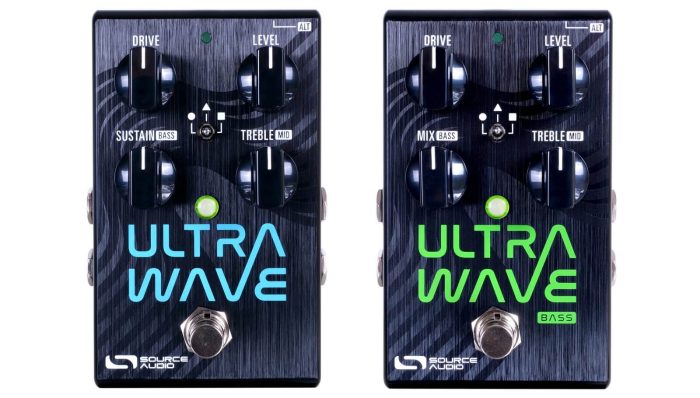 Ultrawave features
37 Different Band Splitting Options: Band Splitting options including single, 2, 3, 4, 8, and 10 bands. Each band splitting option includes several sub-sets with different band splitting frequency points.
44 Different Distortion Types: Choose from distortion/overdrive/fuzz types that include Tube, Diode, Foldback, Negative Flip Diode, Octave Up, and more.
Dual Channel Compressor/Expander: Compressor features Input Gain, Threshold, Ratio, Attack, Release, and Output Gain controls with a detailed graphic monitor. Use the dual channel capabilities to isolate compression to specific frequencies. Place the compressor/expander before or after the overdrive module.
Growing Library of Published Presets: For quick and easy access to a world of great tones, try sampling sounds from a vast collection of published presets created by the Source Audio team and the ever-growing Ultrawave Neuro Community.
Stereo Ins and Outs: Create two entirely different presets and run them in series, parallel or run each to a separate output. Stereo options also apply to the Multiband Tremolo – use the Channel 1/Channel 2 Sync options or the Phase Offset control to create stereo ping-pong, tremolo effects.
Detailed LFO Controls: Use the LFO module to control the Ultrawave's Tremolo, Morphing or Ring Mod features. Choose between a standard Sine Wave or use the Attack/Release controls to create highly customized LFO shapes.
Sound Morphing: Change from one sound to another with an expression pedal, envelope follower or LFO. ​
8 Band Graphic Equalizer
Adjustable Noise Gate
Assignable Knobs: Reassign all four of the Ultrawave's knobs to the parameters most useful for making quick, on-stage changes. Save a different set of knob assignments for every preset.
External Expression Pedal Control: Make simultaneous, on-the-fly changes of up to three parameters with an external expression pedal.
6 Toggle Switch Accessible Presets: Quickly access up to 6 pedal presets with the Ultrawave's toggle switch.
Universal Bypass — Select either analog buffered or relay based True Bypass.
MIDI Capable — Connect the Ultrawave to the Source Audio Neuro Hub and access up to 128 presets with MIDI Program Change (PC) messages. Control many of the pedal's parameters with MIDI Continuous Controller (CC) messages or assign LFO modulation speed with MIDI Clock.
USB Port – Class compliant USB-MIDI allows the Ultrawave to work as a plug-and-play device with recording software running on Mac and Windows. The USB port offers connectivity to the Neuro Desktop Editor providing access to deep editing possibilities and pedal firmware updates.
Compact Design – The durable, anodized aluminum housing has a small footprint and sturdy hardware. Dimensions: L: 4.5 in./11.4cm x W: 2.75 in./7cm x H: 2 in./5.1cm (including knobs).
Universal BypassTM – Select either analog buffered or relay based True Bypass.
The Ultrawave is available for a street price of $249 USD.
More information: Source Audio