Tone2 Audiosoftware has announced the release of Spacewalker, a new soundset for the Saurus virtual analog synthesizer.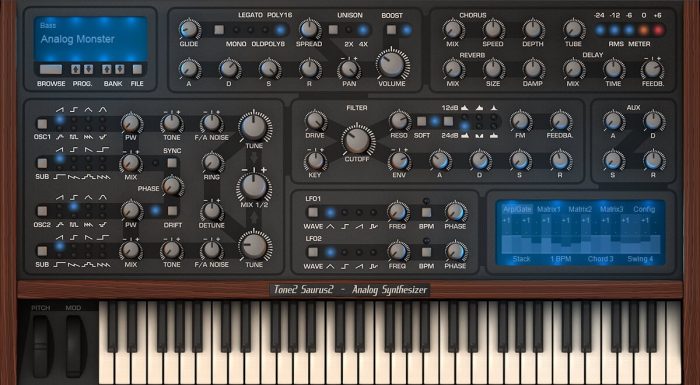 Unleash your talent and create deep soundscapes for cosmic sonic voyages. You will be able to construct spacey, abstract sceneries with very little effort, free to follow your own creativity.
"My name is Mac of BIOnighT. I'm an musician from Italy, mostly known for my ambient music. Saurus, while apparently harmless, is in fact great for dirty, gritty sounds that seem to come from another era.

Working on the set inspired me to create two albums – "Visible Galaxies" and "Delta Vision" – using only these sounds. You will find them included in the soundset as a bonus. I hope you will enjoy this little gift and will make great music with this very inspirational set of patches."
Spacewalker features
120 inspiring patches: 9 Arpeggiators, 16 Atmos, 10 Bass, 13 Effects, 11 Leads, 2 Organs, 13 Pads, 11 Percussives, 15 Plucked, 20 Synths.
Includes two albums as free bonus.
Comfortable installation.
Perfect integration into the user interface.
Created by a professional sound designer and artist.
All sounds are properly programmed and do not contain samples. This gives you the complete dynamic range and highest possible sound quality.
Spacewalker is now available for 29 EUR / $39 USD.
More information: Tone2 Audiosoftware / Spacewalker for Saurus