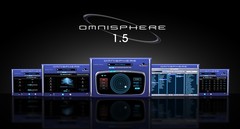 Spectrasonics has announce the version 1.5 update for Omnisphere, a virtual synthesizer instrument for Windows and Mac.
Version 1.5 includes a wealth of new features and additions to the synthesis engine and user interface, the most prominent being the inclusion of a fantastic new interactive interface called "The Orb" which delivers real-time synthesis manipulation capabilities.

The update also includes many features that have been requested by users since Omnisphere's release back in 2009 including the new 5-Column Browser view and support for polyphonic aftertouch. The new version also integrates a significant update to the factory patch library, taking advantage of all the new sound design capabilities and bringing the total number of included sounds to a whopping 8,000!
Changes in Omnisphere v1.5
Innovative "Orb" 'circular sound manipulation' interface with Motion Recording and "Dice" button for infinite variations and one-touch sound customization.
Expanded Synthesis capabilities:
Harmonia: New zoom page shows all Harmonia parameters per layer adding up to 10 oscillators per patch with new independent modulation options for Levels and Fine Tuning on each Harmonia oscillator.
Waveshaper: New zoom page with extreme new processing modules including polyphonic 'Crusher' and 'Reducer' sections with 'Force' and 'Animation' controls that can all be modulated.
Granular Synthesis: New 'Speed' and 'Position' modes. New zoom page with new 'Granular Visualizer' showing a graphic model of the effect of parameter edits which makes Granular synthesis easier to use.
Patch Library Update: Over 700 brand new patches created by renowned Spectrasonics sound development team gives Omnisphere over 5,000 patches and 8,000 total sounds.
New 5-Column Browser view displays more sound categories and attributes simultaneously.
New Online Video Tutorials for Version 1.5 capabilities.
Support for new 'Omni TR' iPad app.
New "Recently Added" Browser sorting option.
Added support for MIDI devices which send polyphonic aftertouch.
New 'Clone Part' feature allows easier editing/setup with multichannel MIDI controllers.
New MIDI Learn hardware control mode follows Live Mode selection.
Modulation Envelope points can be key-command snapped to semitone when modulating pitch.
User-assignable Legato Interval rule added.
Omnisphere 1.5 is set to be released on February 15th, 2011 and will be available to download free for all registered users.
More information: Spectrasonics