At Superbooth 2018, Spectrasonics has announced version 2.5 of its flagship software synthesizer Omnisphere.
Version 2.5 offers a Hardware Synth Integration feature, which transforms well-known hardware synthesizers into extensive hands-on controllers for unlocking Omnisphere's newly expanded synthesis capabilities.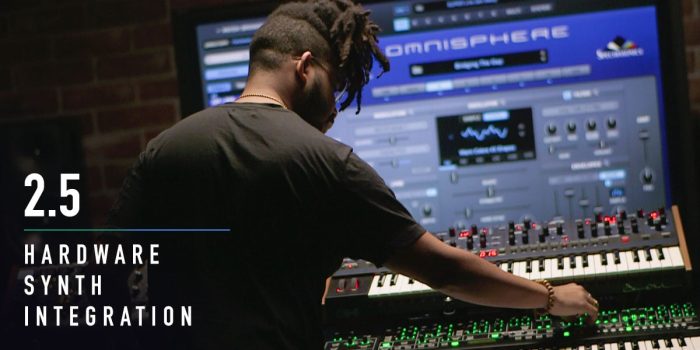 The innovative new feature bridges the physical experience gap between software and hardware, allowing users intuitive control and the ability to easily create/modify Omnisphere sounds by using the familiar layout of their supported hardware synth with minimal setup.
The initial release will officially support over 20 popular hardware synthesizers from Moog, Dave Smith Instruments, Roland, Korg, Behringer, Novation, Sequential and more to come. The supported hardware synths cover a wide range of types and price ranges for different types of users.
Version 2.5 also expands the synthesis capabilities of Omnisphere by doubling its voice architecture to four layers per patch. Each patch can now utilize up to 12 envelopes, 8 LFOs and the Modulation Matrix has been doubled to 48 modulation routings. The update comes with newly designed State Variable Filters, which were specially created for the OB-6 hardware profile and can seamlessly blend between lowpass, notch and hipass filter modes.
Over 50 new "Analog" oscillator wavetables are included and featured in the new hardware profiles, and new "Hardware Library" has been included as well, featuring hundreds of new patches created by Eric Persing and the renowned Spectrasonics Sound Development team using the Hardware Synth Integration feature.
"Since the beginning of computer-based music, the biggest limitation of software synthesizers has been the lack of physical interaction. It's hard to beat the immediacy of a physical synthesizer that you can touch! We are very excited to be able to finally eliminate that problem by utilizing the world's finest hardware synthesizers to fully control Omnisphere." said Eric Persing, Creative Director of Spectrasonics.

"We've never felt that the worlds of software and hardware synths should be segregated into different 'camps'. Our virtual instrument users can now experience the joy of the hardware synth workflow and hardware synth users can now fully expand their capabilities into the vast sonic world of Omnisphere!"
Changes in Omnisphere v2.5
Hardware Synth Integration.
New Hardware Library adds hundreds of new patches for all users: Over 13,000 Sounds total now included.
Vastly Expanded Synthesis: Four Layers per patch, Doubled Mod Matrix, New State Variable Filters, 8 LFOs, 12 Envelopes.
Hardware Synths supported include: Sequential Prophet 6, DSI OB-6, DSI REV2, Moog Voyager, Moog Little Phatty, Moog Sub Phatty, Moog Sub 37, Moog Subsequent 37, Korg Minilogue, Roland System 8, Roland System 1, Roland SE-02, Roland SH-01A, Roland JP-08, Roland JU-06, Roland JX-03, Roland VP-03, Novation Bass Station II, Novation Peak, Behringer Deepmind.
The complete list of new features and supported synths will be announced upon the official release in mid-Summer 2018.
The 2.5 update will initially be released in May 2018 as a Public Beta. All registered Omnisphere 2 users with Standard licenses are eligible to sign up to join the Public Beta test through their Spectrasonics User Account.
Omnisphere 2.5 is a free update to all registered Omnisphere 2 users.
More information: Spectrasonics