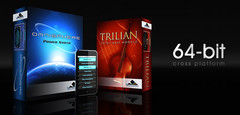 Spectrasonics has announced version 1.2 updates for Omnisphere and Trilian, bringing full 64-bit cross-platform support for the complete line of Spectrasonics virtual instruments.
The new version 1.2 updates include several new features and enhancements to the Spectrasonics STEAM Engine including improved browser features, new synthesizer filter algorithms and a new 'Sample File Server' function giving the software the ability to go beyond 32-bit memory limits on Mac OS X systems.
Changes in Omnisphere / Trilian v1.2
100% 64-bit Mac and Windows compatibility across full line of Spectrasonics instruments.
New Browser "Favorites" star ratings and "Projects" tagging for easy sound organization.
Newly developed "Juicy" synthesizer filter algorithms in numerous configurations.
New "Sample File Server" for 32-bit Mac OS X systems allows more memory access.
Triplet support added to Arpeggiator.
Numerous compatibility and support improvements.
The Omnisphere and Trilian version 1.2 updates will be released first as a public beta on January 22nd – with the official release on February 22nd as free downloads for all registered users.
At NAMM 2010, Spectrasonics also demonstrated Omni Live, a new free iPhone app.
"Omni Live" is designed to turn an iPhone (or iPod Touch) into a simple, wireless remote control of Omnisphere's "Live Mode" page via the touch-screen interface on the small, portable devices. Since Omnisphere's Live Mode already allows multiple sound selection, the iPhone's multi-touch display makes a useful control surface – especially on the stage.

Having remote control of the Live Mode page allows a player to sit remotely from their computer, at their MIDI'ed piano, or across the room at a MIDI controller and instantly choose a patch or combination of patches in the Live Mode page simply by touching the patch names on the iPhone display. The patch names are sent from Omnisphere wirelessly back to the iPhone. Setup is very simple, when Omnisphere is running on the computer and the iPhone is connected to the same wireless network, launching the "Omni Live" App on the iPhone will find the host computer and allow wireless control of sound selection in Omnisphere's Live Mode page. When sounds are selected in Omnisphere, the iPhone automatically gets updated wirelessly.
The new "Omni Live" iPhone remote control app currently works with Omnisphere on Mac OS X systems and is scheduled to be available for free download on Apple's App Store by the end of February.
More information: Spectrasonics