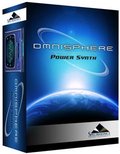 Spectrasonics has released version 1.0.1d of Omnisphere, a versatile multi-timbral power synthesizer for Windows and Mac.
Changes in Omnisphere v1.0.1d
Auto chaos not working for non-looped envelopes.
Streaming preferences incorrectly initialized.
New Value Option text field doesn't disappear after entering text in AU hosts.
Part names get restored when loading a midi learn template.
Startup time affected by files in temp folder.
Error message when a subcategory folder needs to be selected for a save isn't clear enough.
Tuning scale menu check marks don't restore properly.
EZ-Phaser parameters dont have "EZ-Phaser" prefix in mod-matrix target menu.
Patches that use tuning files in nested folders are not sharable.
Keystroke handling in Logic interferes with key commands.
The Omnisphere Patch Library has been updated to version 1.0.2 as well, adding over 1000 enhanced Atmosphere patches, a complete "Atmosphere Library" of patches and the "Taste of Omnisphere" patch demo library.
Visit Spectrasonics for more information.