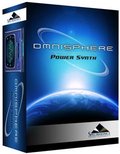 Spectrasonics has released version 1.0.3f of Omnisphere, the versatile multi-timbral power synthesizer for Windows and Mac.
Changes in Omnisphere v1.0.3f
Support for the 1.0.3 Patch Library (includes over 2000 new Omnisphere patches, a major reorganization of the Factory Patch Library and some other improvements).
Fixed: Thumbnail images for small soundsources don't always update properly on Windows.
Fixed: Graphics artifacts when stepping through soundsources while details are displayed.
Fixed: MIDI learn clone and omni don't work with note MIDI learn.
Fixed: First arpeggiator note doesn't always trigger when looping in host.
Fixed: Problem with deep FM in synth mode when playing in a high register.
Fixed: Chorus echo noise at high sample rates and when changing tempo.
Fixed: Live touch mode for MIDI CC not working properly.
Fixed: Clicking in Radio Delay effect.
Fixed: Multis saved in Live mode would sometimes open in Stack mode.
The Soundsource Library was also updated (to v1.0.2) to fix some small problems.
Visit Spectrasonics for more information.