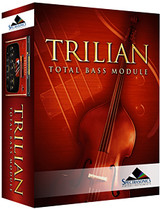 Spectrasonics has released version 1.1.4c of Trilian and Omnisphere, two virtual instruments for Windows and Mac.
Changes in Trilian & Omnisphere v1.1.4c
Don't display inverted note learns on Live page.
Prompt for STEAM folder when STEAM shortcut is missing.
The Trilian Patch Library was updated as well.
Changes in Trilian Patch Library v1.0.3a
Trilian full Synth Patch Library – over 500 new synth bass patches.
Synth DEMO BANK removed and integrated.
Various fixes and improvements to patches and multis.
Improved tags and notes.
Trilian Reference Guide version 1.0.
Updated default/init multis and UserSettings pref files.
More information: Spectrasonics