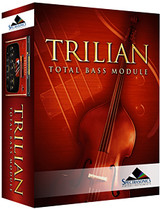 Spectrasonics has announced the released of version 1.2 of Trilian and Omnisphere, two virtual instruments for Windows and Mac.
Changes in Trilian / Omnisphere Software 1.2.0n
64-bit native support with Mac OSX 64-bit hosts
32-bit Sample File Server – more memory access in 32-bit systems (Mac only)
New Browser "Favorites" system with star ratings
"Projects" quick tagging for easy sound organization
New "Juicy" and "Power" synthesizer filter algorithms
Triplets and Dotted values in Arpeggiator
Numerous compatibility and support improvements
[Omnisphere] Support for "Omni Live" remote control iPhone App (Mac only)
Changes in Trilian / Omnisphere Patch Library 1.2.0 Update
[Trilian] Additional "Open" Multis (optimized for standard playing without mutes) – for the Chapman Stick, Clean Fender, Rock P-Bass Pick and Retro 60's Electric Basses
[Trilian] Complete Enhanced Trilogy Synth Patch Library
[Omnisphere] 215 New Omnisphere patches! (v1.2 Factory library = 7,106 total sounds)
Revised 1.2 edition of Trilian / Omnisphere Reference Guide
New and Improved Filter Preset Library
Over 50 New Arpeggiator Presets
Various fixes and improvements
The updates are available to download for registered users.
More information: Spectrasonics