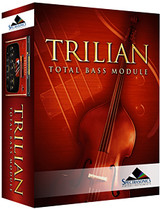 Spectrasonics has released version 1.4 of bass instrument Trilian, and version 1.5.5 of Omnisphere, its flagship synthesizer instrument for Windows and Mac.
Changes in Trilian v1.4
New 5-Column Browser view displays more sound categories and attributes simultaneously.
New "Recent User" Browser sorting option for User Patches.
User-assignable Legato Interval rule added in Soundsource Zoom.
'Clone Part 1' feature added for use with multichannel MIDI controllers.
New "Clone Part 1 MIDI Controls and Make Omni" MIDI Learn function.
Added support for Polyphonic Aftertouch.
Modulation Envelope points can be key-command snapped to semitone when modulating pitch.
Independent modulation options added for Harmonia Levels/Fine Tuning.
"Reset Factory defaults and preferences" feature added to Utility menu.
Numerous compatibility, performance and support improvements.
Changes in Omnisphere v1.5.5
Dialog to select missing STEAM folder doesn't work.
Right click Reset to Default Value doesn't record as automation.
Folder name case sensitivity problem with RTAS version on OSX.
"Most Recent" Browser sorting option should be named "Recent User".
Server Mode initially produces no sound on some occasions.
The updates are now available for registered users.
More information: Spectrasonics