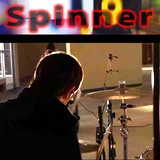 Spinner Audio has released Box Store Kit, a collection of 550 sampler ready grooves in REX, WAV, SF2, and Akai (S5000/6000) format.
Recorded in a huge vacant warehouse, these beats are edgy, full and take loops into a new dimension with a wide open sound and versatility. The well rounded Box Store package includes 550 high quality loops in the following formats: WAV, REX, Soundfont2 and Akai(S5000,6000).

Grooves range from funky, to ambient to straight up rock. Add unique texture to your music, run the beats through an effects processor or just lay down a drum track to jam along with! This sample package is organized first by sample format, then by tempo. Browse tempo folders from within your sampler, load em up and change tempo if you like. You will find everything from laid back basic styles to complex and textured grooves.

With Box Store Kit we wanted to have a focused but massive sound! We were able to locate a huge empty retail space with angled walls everywhere, high vaulted ceilings and roughed hard floor. We spent several hours with a floor tom and a high hat checking out all the subdvisions of the space, eventually ending up really enjoying the sound of the main room underneath the high vaulted ceiling. We are especially happy with the amount of space and warmth present in the recordings. Enjoy Box Store Kit !
Box Store Kit is available for purchase as an instant download for $19.99 USD
More information: Spinner Audio