Spitfire Audio has announced the release of Moonglades, a new SA Recordings series instrument library featuring visceral acoustic and electronic layers by Raven Bush.
Moonglades is a highly versatile tool designed to stir emotions and offer endless inspiration for producers and composers alike.
Enhance your sonic storytelling with this dynamic spectrum of contemporary sounds, made in collaboration with composer and producer Raven Bush. Effortlessly combining acoustic and electronic layers, Moonglades expands on Bush's unique sonic fabric, as heard in his score to Coral Dolphin's choreographed film of the same name, out now on SA Recordings.

A distillation of his unique approach to creating, recording and sampling, this sample library is made up of distinctive techniques performed on his baritone & five string violins, plus sounds made using his vintage synth collection, warped and weaved together with detailed programming and effects to create a stunning palette of visceral textures and melodic and percussive loops.
The library comes with 47 presets and a wide range of effects built into Spitfire Audio's free and easy-to-use dedicated plugin.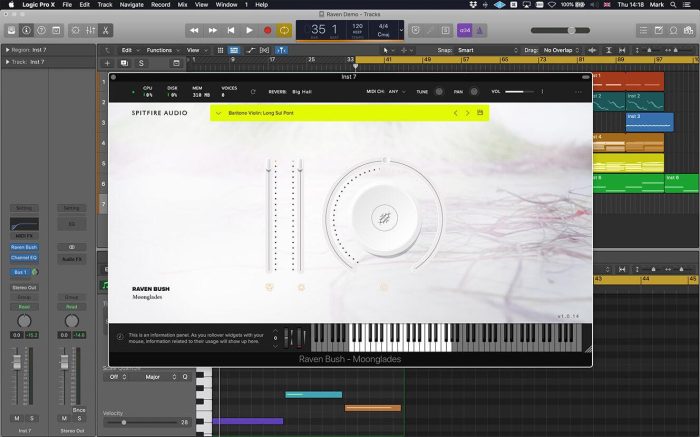 Moonglades features
47 presets.
Baritone Violin, 5 String Violin, Wurli, Synths and Percussion.
Available in our free and easy-to-use dedicated plug-in.
Unique violin techniques including the eerie 5 String Violin Contrary Motion, Chord Builder and Loop patches.
Synth textures and loops made from Bush's vintage synth collection, treated and twisted to create brassy tones, pulses and warped delays.
Industrial and visceral percussive tones.
A huge range of controls: Reverb, Delay, Release, Chorus, Variation, Flanger, Tightness and Time Stretch.
Time Machine speed slider (new feature).
Big Hall, Plate and Room reverbs.
Instant access to a wide variety of inspiring sounds, designed for creating expressive music and unique soundscapes.
From contemporary electronic music to hybrid, modern film composition.
The instrument library is available for 29 USD/EUR/GBP. Spitfire Audio and Raven Bush will be contributing 12.5% of ongoing sales to the CHINEKE! FOUNDATION, championing change and celebrating diversity in classical music, and home to Chineke Orchestra — Europe's first majority Black and Minority Ethnic orchestra.
More information: Spitfire Audio