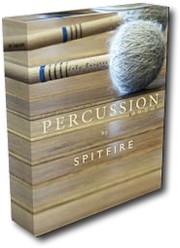 Spitfire Audio has announced the release of Percussion Redux, an updated version of the orchestral percussion sound library for Kontakt.
Spitfire Percussion is regarded by many reviewers to be the best collection of orchestral percussion yet recorded. Played by Joby Burgess through a series of exhaustive sessions in Air Studios, Spitfire Percussion is the definitive collection of Mallets (including a Marimba that Sound-On-Sound described as a "peach",) Timpani, Bass Drums, Toms, Cymbals, Snares, Hi Perc, Lo Perc, Toys and Trash Metals.

Wanting this to be the only orchestral percussion you'd ever need buy, Spitfire purposely future proofed this heavily. With 3-way mic control, and up to 8 Round Robins & 8 Dynamic Layers per patch, it is almost as if only now has technology caught up and enabled us to truly get the best out of this library.

To celebrate this Spitfire have overhauled this product with a raft of new features – see our Youtube walkthroughs of the GUI and our walkthrough of the sounds.
New in Percussion Redux
Unified look to bring it in line with other Spitfire releases. The same multimic with purging/levels as in Albion/Albion 2.
All-in-one patches with all the articulations and playing styles of an instrument in a single keyswitch-able patch to optimise templates.
Ability to latch articulations to CCs, pedals and custom keyswitches to suit individual workflow.
Extensive purging options to optimise memory for your individual setups. Select how many RR and articulations are active and loaded into memory.
Extended 'Neighbouring zones' RR for melodic percussion, potentially tripling the RR count
Configurable release volumes, dynamics and expression from the front panel
Customisable velocity mapping – map the dynamics to individual workstation setup.
Improvements to instruments such as double handed timpani mapping, simulation of dampened bells/glocks/celeste/etc.
Also includes the functionality added to Albion 2 (keyswitch locking, RR selection via keyswitch, Reset RR on transport, etc).
Spitfire Percussion is available to purchase for £349 GBP.
The upgrade is free for existing Percussion users. Spitfire will be giving away 25% off discount vouchers with every new purchase of Percussion made until 16th October, 2012 (Including those who purchased in September as a grace period).
More information: Spitfire Audio / Spitfire Percussion