Spitfire Audio has announced Ólafur Arnalds Evolutions, a sample library featuring haunting frozen strings by BAFTA-winning composer, multi-instrumentalist and electronic artist Ólafur Arnalds.
A truly original and inspiring set of tools, conceived in Reykjavík, Iceland, recorded in Berlin, Germany and realised in London, England that draws on the talents on some true independent thinkers who are shining a new light on classical European instruments, how to play them, use them, abuse them and record and process them with a totally fresh approach.

Recorded in the ultra cool surrounds of Voxton studios Berlin, Ólafur's hand picked quartet features the talents of multi instrumentalist, composer, and oft co-collaborator Viktor Orri Árnason alongside the searing talents of cellist Sebastian Selke.

Each evolution was exhaustingly curated and produced by Ólafur Arnalds who also prescribed his strict and original approach to how Voxton's very cool selection of microphones, pre-amps and outboard should best be utilised for this project.

The net result is a deeply beautiful, if not haunting selection of tools that spring out of the box with delightful and refreshing unpredictability. If you're looking for something cerebral, honest and unique then you'll need go no further.
Ólafur Arnalds Evolutions is available for the introductory price of £149 GBP until December 4th, 2015 (RRP £199 GBP).
Spitfire Audio has also announced its upcoming Black Cyber Sale, an opportunity to buy individual instruments and bundles at a discount.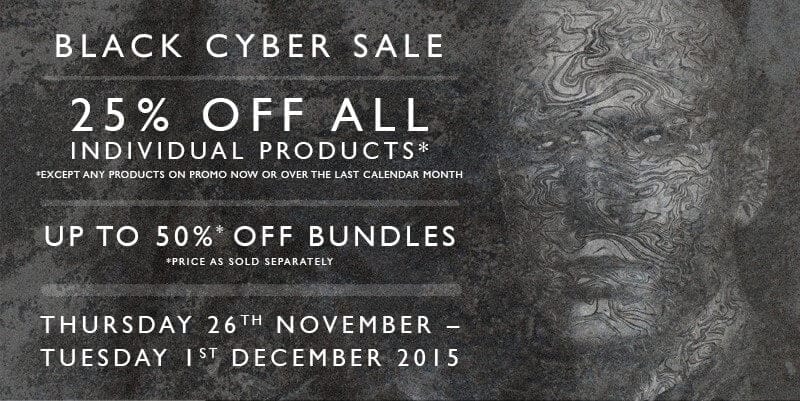 Starting at 9am EST on the 26th of November and ending sharp at 9am EST on Tuesday the 1st of December we will be extending our additional 15% off bundles again to you giving you the possibility of getting up to 50% off sold separate RRP depending on which bargain bundle you buy.

We'll be bringing a number of old favourite bundles out of retirement and remember you can always 'complete' your bundle. Bought the Murals during last year's Black Friday sale and want what we've added this year? Get the same amazing discount but simply pay for the bits you don't have!

Oh, and we'll also be discounting our entire individual product range by 25% off. WE NEVER DO THIS, so grab these bargains whilst you can!
More information: Spitfire Audio