Spitfire Audio has announced availability of Spitfire Studio Strings, the first release in an all-new orchestral library range recorded in a new space as an incredibly versatile pro-end dry stage sample library.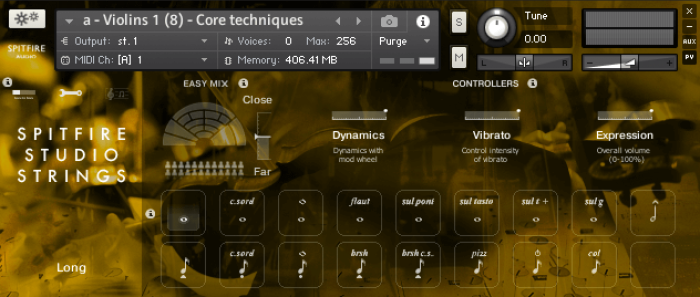 Spitfire Studio Strings marks the first release of a vital all-new Spitfire Orchestra range. Our ambition was to create an incredibly versatile pro-end dry stage sample library. By choosing the crisp and vibrant setting of Air Studio One, a smaller, more controllable space than the opulent Lyndhurst Hall, we offer our fellow composers a string library with depth, detail and focus all at once. One that will work on anything from passionate period dramas to modern Scandi noir. It's a fit for quirky indie and crisp pop, but can also tackle epic film and game scores.

This new set of orchestral libraries, two years in the making, has all of the treasured Spitfire hallmarks: A-list London session players, priceless instruments and an unparalleled signal path recorded to tape by Grammy award-winning engineer Simon Rhodes. As with our existing symphonic and chamber ranges, we have applied a "no stone unturned" approach: an encyclopaedia of articulations (playing styles), vibrato control and numerous dynamic layers and round-robins for seamless, nuanced realism.

Our new Studio Strings package is a medium chamber (or small symphonic) ensemble recorded by section (1st violins, 2nd violins, violas, cellos and double basses), and is available in two versions: Spitfire Studio Strings, and the more extensive Spitfire Studio Strings Professional.
Spitfire Studio Strings for Kontakt or Kontakt Player 5.6.8 or higher is available for the intro price of £159 GBP / $199 USD / 199 EUR until September 13th, 2018 (regular £199 GBP / $249 USD / 249 EUR.
The Professional edition of the library offers 5 extra mics, 2 extra mixes, large band (16.12.12.12.4) and divisi for each section. It has an intro price of £349 GBP / $399 USD / 399 EUR.
Prices incl. VAT where applicable.
More information: Spitfire Audio