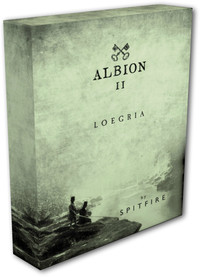 Spitfire Audio has updated its Albion II – Loegria orchestral cinematic composing sample library for Native Instruments Kontakt to version 1.1.
We thank the VI community for their endless enthusiasm regarding this extraordinary set of tools and are proud to announce an update that offers some MAJOR new functionality to a module that is not even two months old!

We look forward to retroactively adding all this and much of Albion II's feature-set and style-of-use back to the original volume of thundering cinematic delights in ALBION I soon. But for now, here's the new stuff.
Changes in Albion II – Loegria v1.1
Support in all patches for polyphonic legato sequencing using velocity splitting.
Ability to move the articulation keyswitches around by dragging the slider underneath the articulation name.
Time Machine patches for the shorts of every instrument in '_Time Machine patches_' folder (user the 'Time M' slider in the UI).
Extended legato range for Strings Hi Legato/Half Legato..
String sustains and legato articulations have a stronger attack when using high velocity (in polylegato mode the Speed slider controls this)..
OSTINATUM : 'Enable keyswitch control' allows you to toggle Ostinatum mode with configurable keyswitches.
OSTINATUM : 'Enable keyswitch soloing' allows you to solo specific Ostinatum patterns via configurable keyswitches.
OSTINATUM : 'Mute this pattern' available in pattern config to mute/unmute specific patterns..
Major Sandbox Engine optimisations to improve performance on low end machines..
Various minor bug fixes and tweaks.
The Kontakt Player powered Albion II library is available to purchase for £329 GBP ex. VAT. The version 1.1 update is free for Albion II users.
More information: Spitfire Audio