Spitfire has announced the release of the Inder Goldfinger Percussion sample library for Native Instruments Kontakt.
We have not set out to create a definitive 'world' collection here, we have simply aimed to capture Inder, his personality, his style of playing and the wonderful collection of instruments he uses as part of his armoury. We don't dare mention terms like 'world' or 'ethnic' within the concept of this library because it is neither, and for it to be constrained to such genres would be a massive failure of intention on our part. This is the heritage, experience and invention of one man living and working in the melting pot that is the United Kingdom.

The library centres around Inder's primary instrument, the Tabla, but extends way beyond that in a comprehensive collection of ** drums, cymbals, and other instruments. Also featured in this library are Inder's extensive experiments using water to change the timbre, pitch and morph the sounds whilst playing (recorded with submerged water mics specially hired-in for the occasion!).
The Inder Goldfinger Percussion library is available to purchase for the introductory price of £99 GBP until February 1st, 2014 (regular £132 GBP). Requires full version of Kontakt 4.2.4 or higher.
Scraped Percussion is a library by Paul Clarvis, featuring a selection of bowable, rubbed and scraped delights to add extraordinary, other worldy textures, flavours and colours to your music.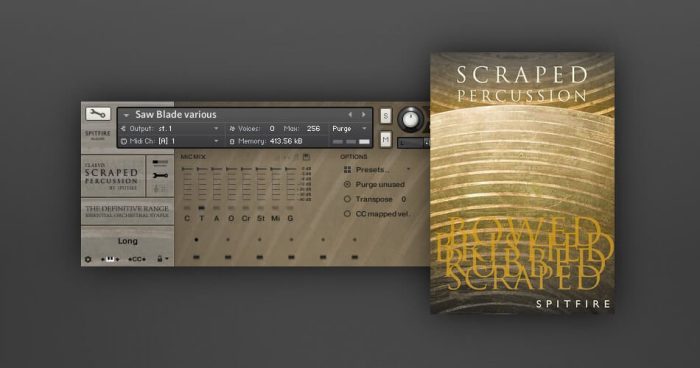 From some glorious cymbals to the teeth shattering polystyrene cup. This is a definitive range of percussion played in ways the makers never had in mind! Performed by Paul Clarvis, one of the true session greats in London. This selection is made up from his experience being asked frequently by top-end A-list film composers and artists what they would like to add that extra "edge" and contemporary sonic architecture to their scores.

Combined with the majesty of the hall at Air, that signal chain, that 2" tape, Jake Jackson's mastery of the room and the mixes, and a beautifully programmed instrument that "just works", we're sure you'll agree you've just laid your hands on something truly special.
Scraped Percussion is available for the introductory price of £40 GBP until February 1st, 2014 (regular £55 GBP).
More information: Spitfire Audio