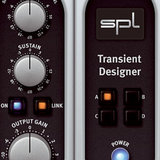 SPL has announced 5 new products at the Musikmesse in Frankfurt.
Come to visit us in Frankfurt to see two new high-end units, a three-in-one box for guitarists, a bundle of our multi-award-winning Analog Code® plug-ins … and let us surprise you with a new, interesting collaboration.
New SPL products
RackPack 500 — SPL is the first manufacturer to open a proprietary modular system for API 500 compatible modules. Project manager Hermann Gier: "Our focus on the RackPack system has always been the modular idea, not a proprietary platform. It was great to find out that API is just as open-minded as we are to offer new choices for our customers."
The new SPL RACKPACK 500 frame offers eight module slots to host four SPL and four API 500 modules. Available in May.
Frontliner — With the new FRONTLINER we extend our range of channel strips with a full-featured, hi-end preamp and processing channel. A special feature are its 'analog plug-in' processing stages. The individual I/Os of de-esser, EQ, and compressor allow for independent insertion and free use in any studio and live environment. Delivery in May.
Auditor — The AUDITOR is a new headphone amplifier based upon our proprietary 120V technology. Besides our full-featured, 120V monitoring headphone amplifier Phonitor, the AUDITOR represents a straightforward, puristical concept. The sound results from its benchmarking specs can be experienced with all dynamic headphones from 30 ohms upwards. Availability scheduled for … you guessed it: May.
Cabulator — The incredible CABULATOR is a unique combination of variable power soak, speaker cabinet simulator and D. I. box. As a direct descendant of the Transducer it is perfectly suited for all live and studio applications. With the CABULATOR a fully torqued amp can always be played without necessarily being loud. Full analog design guarantees authentic sounds for direct DAW recording or to rely on a hum-free connection for the live mix – provided in recording signal quality. The fantastic CABULATOR comes in … well, May!
Analog Code® Bundle 1 — On the software side of our product range we packed the first bundle of Analog Code® plug-ins. Transient Designer®, TwinTube Processor, Bass Ranger, Vox Ranger and Full Ranger are now available in a favorable package for MAC and PC as well as all major formats (TDM, RTAS, VST and AU). The Analog Code Bundle 1 is immediately available. Download files for trial or licensed installations here.
SPL has also released SPL Free Ranger, a free equalizer plug-in for Windows and Mac (VST/AU/RTAS). It offers 4 bands and 4 preset slots.
Visit SPL for more information.