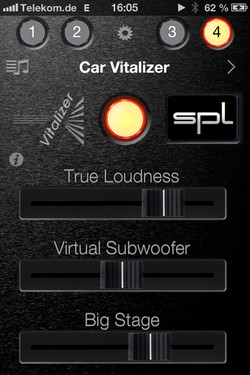 Sound Performance Lab has announced Car Vitalizer, a sound enhancement app for iOS.
Enjoy professional sound tuning in your car – no screwing, no further hardware, no expertise required! Get the new Car Vitalizer® App für iPhone, iPad und iPod touch.

For many of us, the car is one of the last retreats where we can still listen to music or audio books undisturbed. So car stereos that aren't optimally adapted to the in-car acoustic environment are real kill-joys.

SPL is a professional audio manufacturer creating sought-for technology for the world's most famous music production facilities. Now we have ported our patented sound enhancing technologies to the iPhone and iPad in the form of the new Car Vitalizer App — finally professional sound enhancing available to all car owners.
Car Vitalizer for iOS is available to purchase for 6.99 EUR via in-app purchase. The app is free to try for three days.
More information: SPL