Sound Performance Lab has announced the Crimson USB audio-interface and monitor controller and the Madison 16+16 channel MADI interface at Musikmesse.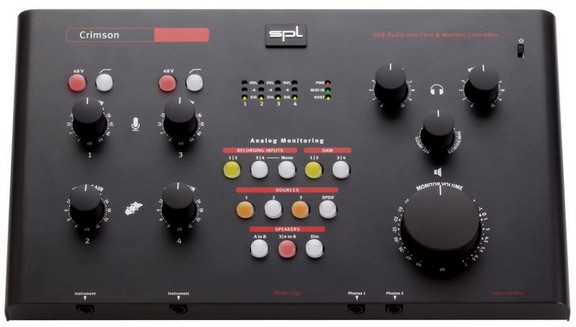 The SPL Crimson combines a USB interface with high-quality preamps and a separate, fully-featured monitor controller. You can play and play back, record and convert, control and listen with one single device.

So all you essentially need for a truly professional recording setup is the Crimson and DAW.
Crimson features
30 I/O channels (10 recording channels and 20 playback channels).
+/- 18V operational voltage for professional levels up to +24dB.
Two boutique level, discrete Class A, +/-30V high-voltage mic-preamplifiers.
Two Hi-Z instrument preamplifiers.
Two separate headphones amps, individually controllable.
Connect and control two stereo speaker sets.
Monitor signal mix function for playback and recording paths.
MIDI input and output via two DIN sockets.
USB 2.0, S/P-DIF input and output.
24Bit/192kHz converter.
Made in Germany.
The Crimson is scheduled for release in July 2013, with a RRP of 549 EUR (including German VAT) / $725 USD.
The Madison 16+16 channel MADI interface is the "most analog digital converter", according to SPL.

With excellent converters and a unique 36 volts analog section, the SPL Madison offers the pure SPL analog sound for every MADI equipped digital console, audio router and PC MADI card.

With 16 input and 16 output channels in a single rack space, the Madison combines state of the art signal conversion with highly reliable clock and MADI processing. And as a true SPL unit it is simple to operate, easy to expand and, of course, an awesome sounding conversion system.
Madison features
16 AD and 16 DA converters in 1U.
Superb sounding converters with a sophisticated analog section on 36?V audio rails.
+24?dBu professional output level.
Best price/performance value.
Up to 64 I/Os on 1 MADI port (4 units).
Latency neutral MADI chaining.
44.1 to 192?kHz, ±10% vari-speed.
SPL clock-shop for jitter-free operation.
Ultra-compatible, always operational MADI IO with ultra low conversion latencies.
Four directly selectable reference levels: 15/18/22/24.
Simple operation and setup right from the front panel controls.
Ergonomic, distance-readable meters for clear level status indication of any I/O channel.
Fanless, absolutely silent low-power design (max. 30?W).
Redundant power supply optionally.
Four analog, 8-channel multicore DB 25 sockets (TASCAM industry standard).
Made in Germany.
The Madison is scheduled for release in June 2013, priced at RRP 1.499 EUR (including German VAT) / $1.899 USD.
More information: Sound Performance Lab