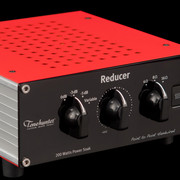 Sound Performance Lab has announced the Reducer, a new passive power soak.
The Reducer attenuates the power output of the guitar amp. This means that all sorts of amps, especially tube amps, can now be overdriven without the need of having to be too loud.

So whenever you need the best sound of your guitar amp, with the Reducer you always get it. The Reducer works entirely passive and converts the amp's energy into heat – this ensures best sound characteristics and can turn it into a really hot unit indeed!
Reducer features
Max. input load: 200W RMS @ 8 ohms.
Simple insertion between amp and cabinet.
Passive principle, requires no own power supply.
No sound degradation.
Switchable impedance for all amps (4, 8, or 16 ohms).
Point to point handwired.
Developed and handcrafted in Germany.
SPL Reducer has a recommended retail price of 277 EUR / $449 USD. Prices excluding VAT.
More information: SPL