SPL has announced that it is now shipping its new TDx Transient Designer and DeS Dual Band De-Esser single-slot 500-series modules, previously announced at the 2016 NAMM show.
TDx Transient Designer 500 Series module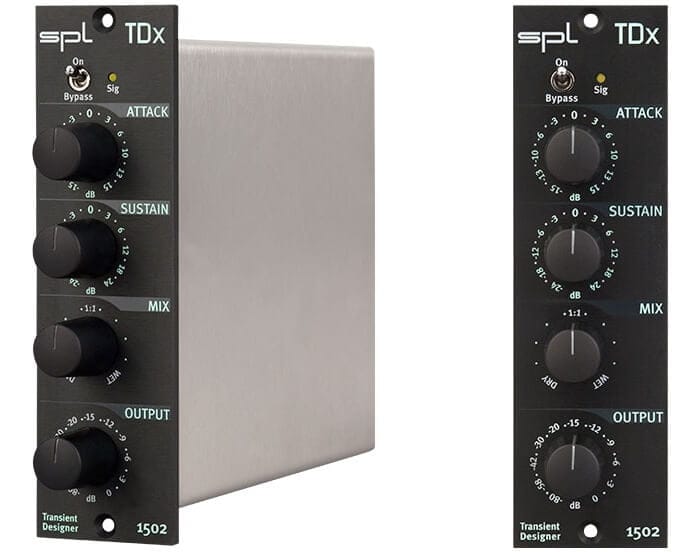 With the Transient Designer TDx the level-independent processing of signal paths is making headway into the world of 500 series rack modules.

Working with the Transient Designer is very simple: Attacks can be amplified or attenuated and sustain may be prolonged or shortened. However, the possibilities for studio and live application are seemingly endless.

Technical foundation is SPL's Differential Envelope Technology (DET) which allows level-independent dynamic processing by calculating differences in generated envelopes. These envelopes are always tracking the curve of the original signal to provide optimal results in every moment of the music. So only two controls per channel are required to allow the user to completely reshape the attack and sustain characteristics of a sound.

Thanks to the new TDx feature MIX (parallel mix) you can continuously blend between the processed and the unprocessed signal. Thus, the range of functions is extended even further and with the three parameters ATTACK, SUSTAIN and MIX, which offer an intuitive operation, the options of designing transients reach a new dimension of great variety.
Transient Designer 500 Series module features
Extended original Transient Designer circuitry.
NEW: Parallel MIX control – blend between "Wet" and "Dry".
ATTACK: amplify or attenuate attacks.
SUSTAIN: Prolong or shorten sustain.
Differential Envelope Technology (DET).
Output level control.
ON/Bypass switch.
Signal LED.
Single-Slot 500 series rack module.
Made in Germany.
DeS Dual-Band De-Esser 500 Series module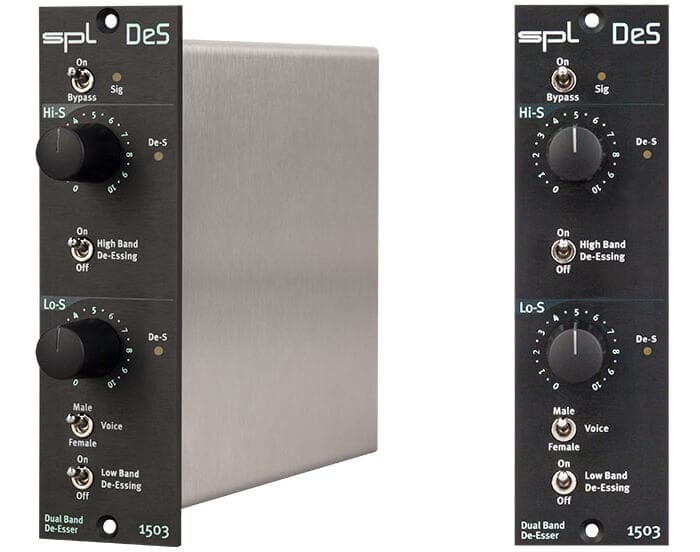 Back in the 1990's, we developed an alternative way to process signals based on phase cancellation in order to reduce sibilance.

Unlike traditional compression methods, this procedure is much more unobtrusive and simplifies control to one single parameter. SPL's De-Esser quickly became a standard reference among recording studios, broadcast stations and live sound engineers.

The Dual-Band De-Esser expands on this concept by making use of two frequency bands that can be used independently or jointly. Two de-esser stages increase processing effectiveness without introducing audible artifacts. Focused processing with high and low bands makes it possible to process sibilant sounds with great precision. Furthermore, input signals are automatically adjusted so the processing is uniform, regardless of the distance between source and microphone. The Male/Female modes adapt processing in the lower band to male or female voices.

Now, the Dual Band De-Esser DeS is also available in 500 Series format.
Dual-Band De-Esser 500 Series module features
Sibilance reduction by phase cancellation.
Very effective – very unobtrusive.
2-band processing: Hi-S and Lo-S.
Only 2 controls – easy and fast to use.
De-S intensity LED display.
Male/Female voice selection.
ON/bypass switch.
Signal LED.
Single-Slot 500 series rack module.
Made in Germany.
The modules are now available for purchase at a RRP of 549 EUR (including German VAT) / $529 USD each.
More information: Sound Performance Lab